Supernova gift card
Although you cannot buy a Supernova gift card at the Supernova Šibenik shopping center, you can still use it here for your shopping.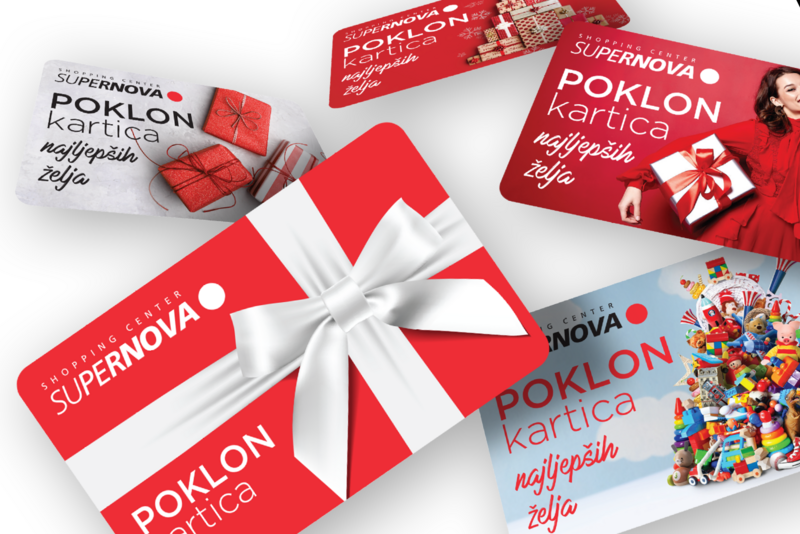 REGULATIONS ON THE PURCHASE AND USE OF SUPERNOVA GIFT CARDS
The Supernova Shopping Centre gift card is a means of payment equivalent to the usual means of payment. There is a unique identification number on the card. A Supernova gift card can be used for multiple payments at multiple outlets until there is unused cash on it. The gift card can be used at all Supernova Centres.
Gift cards are sole on all info desks of shopping centres Supernova, Garden Mall, Buzin, Karlovac, Zadar, Varaždin, Koprivnica and Colosseum.
Gift cards can be paid for with cash and debit and credit cards as displayed on the info desk. When purchasing a gift card, the customer receives a debit receipt. A prior notice is required for R-1 invoice when purchasing a gift card. For information on the possibility of business-to-business purchase and payment via a business bank account, please contact the accounting company m2 Centermanagement d.o.o. via email address: rg@m2.co.at
The card is activated by payment of at least HRK 100.00 and a maximum of HRK 5,000.00, subject to payment of the amount in hundreds (100, 2000, 500, 1,000, 1,100, etc.) the purchased card cannot be refunded, or the amount changed after the activation. The gift card is not issued in the name and surname of the buyer and/or user, it is transferrable, and no identification document is required to purchase it. The gift card is valid for 12 months from its activation. The validity of the card and the available amount can be checked at the info desk or at any shop that accepts payment by Supernova gift cards. The same card cannot be topped up with a new amount.
Gift cards can be used at points of sale in all Supernova Shopping Centres, except the points of sale of tenants who, by internal decision, do not participate in the Supernova gift card project, which are listed on the page www.supernova.hr Payment with Supernova gift cards is only possible if there is an available amount on the card. In the event that the amount on the card is not sufficient to pay the total amount of the purchase, the customer is obliged to pay the difference to the available amount of the gift cart up to the total amount of the invoice.
Sellers are not required to accept damaged or otherwise defective gift cards. In case of suspected forgery of a gift card, the seller is obliged to keep it and inform the manager of the shopping centre about it.
The gift card cannot be exchanged for money.
The issuer of the gift card is m2 Centarmanagement d.o.o.